Welcome to our website.
Performance-Niederlassung Berlin
Dear customers, dear PERFORMANCE friends,
the Berlin branch would like to expand the customer base of PERFORMANCE, which is mainly located around Lake Maggiore, Lake Garda and Lake Constance.
In our opinion, a PERFORMANCE is not just a fair-weather boat, but with appropriate modifications can also be used on the north-east German waters around Berlin.
The excellent rough water qualities, with a B certification, make especially the models 1001 to 1501 interesting for offshore use on the North Sea and Baltic Sea. In addition, these models offer enough space, comfort and luxury for an extended holiday.
The PERFORMANCE-Niederlassung Berlin will unfortunately not be able to participate in trade fairs in 2021 due to Covid-19. The PERFORMANCE brand will nevertheless be represented at trade fairs. For more information, please visit Events. or visit https://performance-marine.de.
The PERFORMANCE-Niederlassung Berlin will be taking part in the Pokerrun in Ueckermünde this year. There we will present our inspiring boats in offshore use, in strict compliance with Covid-19 regulations.
For Pokerruns we have built a PERFORMANCE 1201, as a limited Berlin Edition 1/10, with a special high-speed camper top and carbon equipment. She impressively combines the advantages of a first-class offshore boat with those of a luxurious cruiser, including a spacious saloon with 4 berths.
The elaborate hull construction of PERFORMANCE, with a high torsional stiffness, guarantees the same reassuring safety even in rough offshore conditions – or high speeds – as in a relaxed planing cruise.
Others stay in port in rough seas? We go out!
Our service for you:
Sales of new and used

PERFORMANCE

boats
New boats now available as limited Berlin Edition 1/10 with carbon equipment and high-speed camper top: can be ordered according to your wishes
Payment acceptance

PERFORMANCE

boat restoration
Service work for all

PERFORMANCE

new and used boats by our contractual partners.
We always have a

PERFORMANCE

boat on the water in Berlin. Test drives are possible by arrangement and also as part of poker runs.
I wish you always a hand width water under the keel.
Your David Bügler
The Performance DNA
We do not build boats under 40 knots.
Attention, danger of addiction: PERFORMANCE combines maximum speed and luxurious elegance with the unique line of a powerboat. Tradition meets future: Since the early eighties, PERFORMANCE boats and yachts have been individually handcrafted with know-how and dedication in the shipyard manufactory in Porlezza at Lake Lugano. In the beginning rather an "insider tip" among true motorboat enthusiasts, the PERFORMANCE family has grown steadily over the years.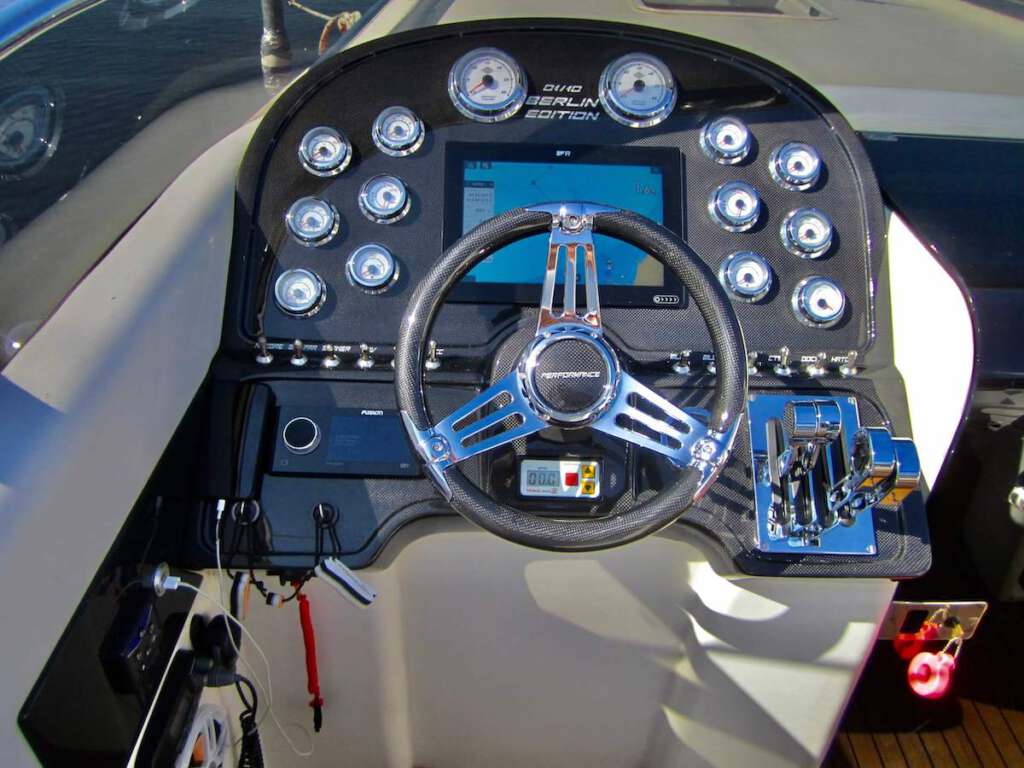 PERFORMANCE offers its customers the highest quality standard and genuine handcraftsmanship – while at the same time offering extensive customization options.
Because a PERFORMANCE is always also an expression of the personality, individuality and self-realization of the owner.
PERFORMANCE boats and yachts are the result of years of racing experience and are the perfect choice for customers who want an individually designed and sophisticated boat in the sports segment from 7 to 15 meters and with up to 2,000 HP. Already the "entry drug" into the world of PERFORMANCE boats has up to 600 HP. Unique for all PERFORMANCE models are the self-constructed boat hulls, which are known for their excellent and unbeatable sailing characteristics on all waters. They allow the customer extreme speeds and maximum driving dynamics while at the same time offering exceptional comfort for their class.
PERFORMANCE BUILT WITH PASSION